I will get to those election and election-issue related essays. Especially those of us whose overall righteousness was subject to question anyway are being called to account for themselves in the wake of this ongoing debacle that has revealed the presence of so much rancidness in the body politic. But I have to make quick notes on all these movies and then I should be set on that for a little while.
Julia (2009)
This was pretty good, it had a plot that was both different and edgy (by bourgeois standards), professional grown up acting, much of it takes place in Mexico, which seems on film like a more free flowing and natural, and therefore in many ways more alive, place than the U.S. at this point. I thought the ending was anticlimactic, if perhaps the most 'realistic', though the film had not been particularly realistic up to that point. Tilda Swinton is the star, and I must say she is quite aggressively good as an abrasive, middle-aged alcoholic wastrel with no evident family, or career, or interests outside of drinking. Most of the characters in this movie come from this down and out milieu, or are professional criminals. The main plot involves Julia's kidnapping a child, the grandson of a well-known millionaire, with some vague idea of collecting a ransom. It held my interest.
Traffic (2000)
Before the Fall
This won the Best Picture Oscar in its year, which I still think of as recent, though in fact it was over a third of my life ago. It takes on the cross-border drug trade, and also has a good portion of it set in Mexico. It has some entertaining aspects, though a bit over the top, particularly the storyline where Michael Douglas's daughter goes from being an Ivy League-bound straight A student at her prep school to whoring herself out to vicious drug dealers in the hood to support her coke habit. Maybe this really happens a lot, but to me it is a sign of how the times have changed just since 2000. There kind of was a perception, certainly in the 90s, that hard drug use tended to be concentrated among spoiled upper middle class brat types and was something of a problem. But I don't perceive this to be the case now, while of course in poorer rural areas the rates of drug addiction and even drug-related death have soared to levels that I think would have been shocking in 2000. So the movie also is dated in the sense that the serious problem it was trying to address seems only to have gotten gradually worse, at least up to this time.
Rear Window (1954)
More my scene
This is, thus far, my favorite of Alfred Hitchcock's later (post-1950) movies. Sitting at a window in a big important city looking out at people, with my beautiful girlfriend attending me and engaging with me in ongoing commentary, appeals to my sensibility anyway, and then there are the various fascinations that whatever version of the past I am watching hold for me. So this one is very easy for me to get into. The plots of most of these Hitchcock films, and especially their resolutions, always seem rather simple and almost primitive to me, but of course the style and composition and the intelligence and wit of the dialogue are where their main value lies for me. I know there are endless critical studies that explain the intricacies and hidden depths of these movies in excessive detail, and I have read some of them, but I am rarely struck by anything in them that seems important. What is important here are the simple activities of seeing, and thinking, and talking, and noticing, and offering something for others to notice.
I missed the Hitchcock cameo in this. I have to assume he was at one of the songwriter's parties, or passed by the alley.
Since Donald Trump has now unleashed a scarcely precedented outpouring of feminine rage in this past week, which is probably not going to abate until at least after the election, if even then, I did take note of the especially egregious sexism of Jimmy Stewart's war buddy the detective in his dismissive analysis of the workings of the feminine mind. The popular entertainment of the 50s and 60s, for reasons I have explored elsewhere in my writings, seem to be the most offensive to our sensibilities in this regard. In my opinion the condescension and general assurance of male competence was not as pronounced in the 20s, 30s and even early 40s. The combination of success in the war and the male-centric prosperity that arose after it made American men feel perhaps a little overly good about themselves, at least as vis-a-vis women.
In addition to her other attractions, Grace Kelly is probably the most famous figure to emerge from Philadelphia's Irish Catholic community, with which I have familial connections as well. In other words I am kind of claiming an especial closeness to her.
The Bank Dick (1940)
A W.C. Fields comedy that seems to have claimed the mantle among modern critics as the Most Essential of his titles. I didn't really get it. I thought it was silly, slow, cheap-looking, and not remotely funny. Of course the experts can't be that wrong, so I will assume I am missing something. I had never actually seen a W.C. Fields movie, so I was expecting him to be a lot different, namely a more slashing wit and the kind of, if not manic, certainly aggressive energy that I associate with more modern comedians. None of this is in evidence here,
in which the humor, or attempts at it, take fairly mild and languid forms. Not one of my favorites.
Grand Illusion (1937)
Regularly celebrated as one of the greatest movies of all time, and among the most poignant. If one of the themes of the film is the passing of the aristocratic ethos of old Europe as a result of World War I, it is experienced by us as being made with a particularly old European, and especially old French, sensibility of its own that was itself about to pass away forever. I had seen this a very long time ago, and I'm sure I liked it, or the atmosphere of it but I had not remembered it all that well, and doubtless almost all of the class and historical symbolism must have gone over my head. But I was more attuned to that this time. I should note, it also helps that I have a new television that is about five times as big as the one I used to have, so watching movies now is much more like a theatrical experience. Jean Gabin made the strongest impression on me that he ever has (I assume I must have seen him before in something besides this; on the other hand, after perusing his 'filmography', perhaps I haven't). He has a great star presence. The role of the enigmatic von Stroheim of course is also legendary, but it is borne out in the viewing, his signature and unusual combination of haughtiness and deep melancholy is very affecting. I had not recognized Pierre Fresnay, whose work as Marius in the
Fanny
trilogy I remember praising, as Captain Boldieu, nor Dito Parlo, the German farm widow, as the newlywed from
L'Atalante.
I note these trivialities because all of these movies represent something important to me--indeed, in some ways the entire purpose of this whole project is as an excuse to see certain films without appearing to unduly favor them--and I like to be conscious of the relation and continuity of the artistic people involved in them.
While I am willing to believe this may be one of the twenty or so greatest films ever, I cannot with honesty rank it there on my own list, because for all of its depth of character and generosity of spirit I have not been able to reach the point with it where it has resonated with me emotionally, in terms of true love. But I do admire it.
The Awful Truth (1937)
Even though I do my best when finding a movie to put on my list to have as random and eclectic a selection as possible, there are periods when by whatever coincidence certain actors seem to turn up multiple times within a very short space. I have gone through a Toshiro Mifune period, a Burt Lancaster period, even a mini-Fernando Rey period. For the last year or so I feel like I have entered a heavy Cary Grant period, after almost never encountering the man over the first forty-five years of my existence. To my mind he has not aged as well as a movie star as some of the other golden age titans like Spencer Tracy or Jimmy Stewart or Bogart, because he is either strangely impersonal (queue the famous Mel Brooks monologue about going out to lunch with Cary Grant) or because his persona is not really like that of anyone nowadays not only in show business but in life itself. My wife likes him however, and in addition to the movies I write about here we have seen quite a few of his other ones with the children (whom we periodically subject to oldies as a supplement to whatever other education they might have picked up over the years), such as
Arsenic and Old Lace, Room For One More,
etc. And of course a lot of his movies are pretty good or otherwise have some interest about them, but him personally I don't really find appealing at all. Something about him makes me uncomfortable. Not like Jean Gabin or Erich von Stroheim. I'm very comfortable around them.
Getting back to the subject at hand,
The Awful Truth
is I guess one of the more celebrated of the 30s screwball comedies, in which genre Grant was one of the true mainstays. His foil in this one is Irene Dunne, whom we have also been seeing a lot of lately (
Anna and the King of Siam; Life With Father),
though about ten years younger than she was in these other roles. I like it--I don't love it, the screwball comedy not being a genre I have fully taken to (yet). Maybe I will watch this again soon, as part of the children's classics series. I am not sure if my wife has ever seen it, and she often has very original insights about things, because she is intelligent but is not mentally in the same rut as everyone else because she reads very little contemporary media, criticism, and social commentary. One thing I have to admit is that, as much as I love a lot of 1930s Hollywood product, the over the top depiction of wealthy characters that flourished in this era I often find to be wearying. All the furs and jewelry, the enormous doors and dining rooms, the silver table settings, the silk bathrobes and the top hats, the dogs of the ladies, when there is one. I don't find it attractive, I suppose.
The Crowd (1928)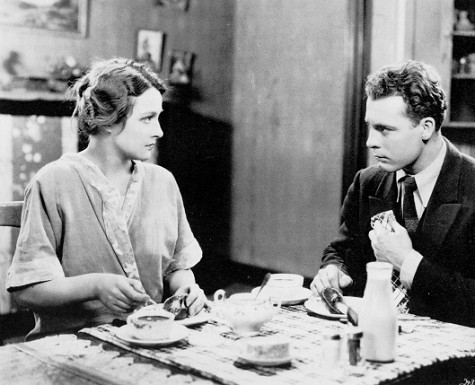 Hitting a little too close to home at times
Great late silent movie about mediocrity in a mass society and its feeble consolations that is surprisingly modern and still packs a considerable emotional punch almost 90 years later. It isn't available on DVD for some reason (it was one of the first 25 movies designated for preservation by the Library of Congress, so it's not like it is that obscure) so I sprung for a VHS copy. I can't recommend it enough, though it is a little depressing. My wife found out that a child dies in it and refuses to watch it on that account, which is unfortunate, since I would have valued her observations and perhaps reassurance about the film, since the two lead characters are quite similar to us, the man being delusional and lacking the drive to advance in life, eventually becoming an unemployed and unemployable loser, the woman (played by notable silent star Eleanor Boardman) being supposedly ordinary but appearing to her husband of course as the most beautiful girl in the world, which she in fact is close to being, more responsible and harder-working but too indulgent of her husband's flaws and, the movie suggests, culpable in their situation by not taking a more hard-headed stand against his frittering away of money on entertainments and other frivolities. There are just so many famous scenes that are painful to watch, because the director is not wholly sympathetic to his subjects; he is a little, and they are to some extent victims of circumstance, but they also walk blithely into every trap the world has set for them, and we can't really admire that, can we? It is an all-time great movie though, and in its time very innovative.